The British composer Benjamin Britten (1913-1976)
.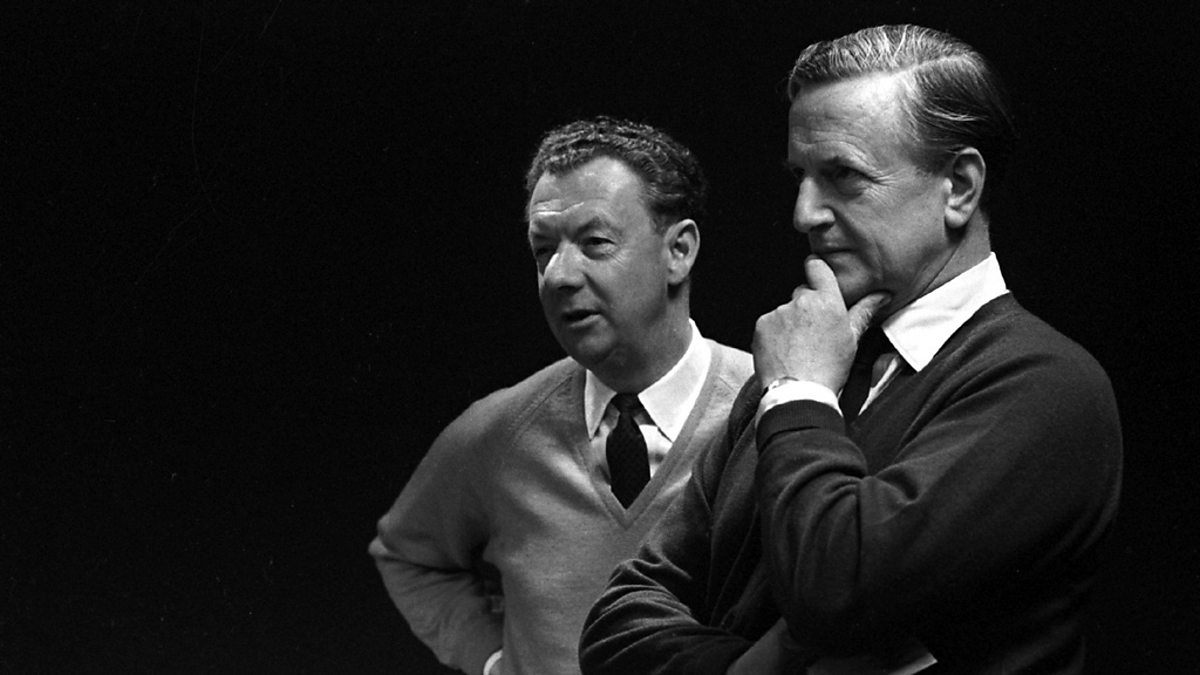 Britten (left) and Pears.
Pears singing and Britten playing piano Schubert's song, the No. 6, Die Neugierige, Die Schöne Mullerin cycle Op. 25 (4.06 min).
Benjamin Britten was born on November 22, 1913 in Lowestoft, England, in the midst of a very cultured bourgeois family. From early showed great musical vocation and studied at the Royal College of Music in London. In the thirties decided to accept his homosexuality, which barely bothered in his later career as a composer, with works ranging from the most simple and lyrical tonality to atonality more complex and dramatic.
Pacifist, conscientious objector filed between 1939 and 1942 and lived in exile in Canada and in the U.S., where he composed a violin concerto (1939) and the Sinfonia da Requiem (1941). He returned finally to England in the middle of the war, however, when the writer E. M. Forster sent him the text The Borough of eighteenth century British poet George Crabbe, born in the small fishing village of Aldeburgh, on the Suffolk coast, which aroused his longing (said after "I understood two things at once: to be an opera, and where my home") and he composed his first opera, Peter Grimes (1945), which was a great success, starting a series of operas, the best in the English language.
The money earned allowed him to buy his first house in Aldeburgh, Crag House, on the beach. The second, the Red House, purchased a little further to prevent onlookers shorebirds. He lived there most of the rest of his life.
In 1947, with the British tenor Sir Peter Pears (1910-1986), his partner for life from 1934 (his correspondence is a monument to true love between men and, especially, in mutual admiration as artists), decided to found the Aldeburgh Festival, a major annual event since 1948 for the interpretation and teaching of music, held in the Britten -Pears Foundation, and the centenary of the birth of composer Peter Grimes is scheduled again. For there have been many of the greatest musicians, artists and intellectuals of the twentieth century: Yehudi Menuhin, Shostakovich, Rostropovich, Richter Sviastoslav, E. M. Forster, W. H. Auden, Philip Larkin or T. S. Eliot.
Britten composed also from the end of the war theater and film music, song cycles, the monumental War Requiem (1962) which is a monumental choral work that uses verses of the British poet Wilfred Owen, cantatas called "church parables" as the Prodigal (1968), and an extremely popular children's music, including the famous The Young Person's Guide to the orchestra (1946), often he ran and played, because he was a finisher conductor and pianist, or Noye's Fludd (1958), children with animals function (a version appears in the recent film Moonrise Kingdom by Wes Anderson).
Meanwhile, he continued his very famous series of operas with The Rape of Lucretia (1946); Albert Herring (1947); the extraordinary Billy Budd (1951, revised in 1960), based on the novel by American author Herman Melville; Gloriana (1953), composed for the coronation of Elizabeth II (who visited him in Aldeburgh); The Turn of the Screw (1954), on a 1898 ghost story by American writer Henry James; the Dream of a summer Night (1960) by William Shakespeare; Owen Wingrave (1971), based on a story by Henry James; and Death in Venice (1973), for an account of the German novelist Thomas Mann. Britten called some of his later works as chamber operas, requiring an orchestra of only twelve members.
He died in his Red House in Aldeburgh on December 4, 1976, just admired as the greatest twentieth-century British composer. Under two austere erect tombstones on the lawn of her tiny and beautiful cemetery lie together he and his beloved Pears.
Montes, Javier.
Tiempo lento con Britten
. "El País" El Viajero 785 (15-XI-2013) 8-9.
Gago, Luis.
Arden los mares
. "El País" Babelia 1.203 (13-XII-2014) 19. The Britten's operas
Peter Grimes
(1945) and Death in Venice
(1973).
Gago, Luis. Benjamin Britten sigue vivo en Aldeburgh. "El País" (20-VI-2016).
Gago, Luis.
Shakespeare y Britten sueñan juntos en Aldeburgh
. "El País" (11-VI-2017).